It's not just the staggering statistics. It's the struggle, too.
The most recent being a blood-clot scare last August, but there were position battles won and lost before that, and relative recruiting obscurity despite being featured in a Netflix documentary.
How those experiences shaped Sam Hartman is every bit a reason for optimism about what the final college football chapter at Notre Dame might look like for the perseverant 23-year-old Wake Forest transfer quarterback.
On Thursday, the 6-foot-1, 210-pound sixth-year senior-to-be made it official, announcing via Twitter his impending transfer to join the Irish following a two-day campus visit Wednesday and Thursday.
He's the fourth transfer to commit to the Irish in the past month, joining South Florida kicker Spencer ShraderPenn punter Ben Krimm and Virginia Tech wide receiver Caleb Smith.
Spring-semester classes at Notre Dame start Jan. 17, with winter conditioning beginning shortly thereafter. Hartman will be joining a quarterback room that includes current sophomore and 2022 Gator Bowl MVP Tyler Buchnerfreshman Steve Angeliearly enrollee Kenny Minchey and sophomore Ron Paulus III.
Buchner has three career starts, the latest being Friday's 45-38 Gator Bowl victory over South Carolina after a 10-game layoff to rehabilitate a shoulder injury. Angeli has taken seven collegiate snaps and attempted zero passes. Minchey and Powlus – zero and zero.
Meanwhile, Hartman, a three-time Wake Forest captain, has amassed an ACC-record 110 career TD passes and has thrown for 12,967 yards, second all-time in ACC history. This past season in 12 games, he threw for 3,701 yards, completing 63.1% of his passes, with 38 touchdowns and 12 interceptions.
SUBSCRIBE TO INSIDE ND SPORTS TO STAY IN THE KNOW ON NOTRE DAME ATHLETICS
JOIN THE CONVERSATION ON THE INSIDER LOUNGE MESSAGE BOARD
He ranks 15th nationally in passing efficiency with a career-high rating of 159.4. But he wouldn't be coming to Notre Dame if he wasn't also a perceived fit.
"There's so much that goes into a football player beyond what you just see on film," Freeman said Dec. 29, heading into the Gator Bowl. "There's a lot of guys you can turn on film and say he's a good football player, or you can say he's not so good. When you meet someone face to face, you get a chance to know them, ask them difficult questions, see how they respond. You get to say, 'Let's figure out who this person is as a man.'
"It's different in the transfer portal, because everything happens so fast. When you're recruiting high school kids, you build relationships over time. You really get to know the kid, the coach, the families.
"In the transfer portal, you have to be able to look kids in the face, have those conversations, but also make phone calls, try to see, 'Hey, do you know somebody at the previous school?' Do you know somebody that can give you a little bit of character makeup of this person?'
"You've got to be careful, the people you bring into your locker room. We're fortunate, we have a great group of captains, a great group of leadership that you really don't have an option when you come into our locker room. You're going to convert to the way these guys lead, or say, 'This isn't the place for me.' That's really important."
And it's important that there be a competition for the starting job, so that the team can see who the clear No. 1 is. Just like there was in the offseason ahead of the 2021 season, when grad transfer Jack Coan ascended to the top of the depth chart.
"I honestly figured they'd bring in someone, just because there's kind of been rumblings about it, and I understand," Buchner said in mid-December roughly two weeks after a 10-game starter and junior Drew Pyne had the opposite reaction.
"If somebody gets hurt, you need more depth in the room. You need people. Yeah."
Pyne, who was elevated to No. 1 QB status when Buchner suffered a non-throwing shoulder injury on Sept. 10, has since landed at Arizona State.
"We had to be honest with, and I love Drew Pyne," Freeman said last month, "but part of that love for him was to say, 'We're possibly looking into the transfer portal to take a quarterback'
"I could have not told him, and lied, and said, 'We're not going to take a quarterback,' and waited until after the (bowl) game and said, 'Hey, we're going to look for a quarterback. .' But that's not what we're built on. We're built on real, authentic relationships and having those honest conversations. And Drew made the best decision for Drew.
"I say it's the best, because he made it. We are so grateful for what he did for our program this year. And I wish him all the best. But I'll never go back and regret the conversation that we had about our plans moving forward."
Coveted four-star prospect Phil Jurkovec was Notre Dame's choice to add to its quarterback stable in the 2018 cycle, the same recruiting cycle in which three-star Hartman signed with Wake Forest out of Oceanside Collegiate Academy in Mt. Pleasant, SC
The Irish didn't offer Hartman a scholarship out of high school, nor did almost anyone else. Wake Forest only had to beat out Elon and Charlotte to sign him. His recruiting process — and that of Iowa State signee Real Mitchell and current Chicago Bears QB Justin Fields — were captured in the 2018 rendition of the Netflix documentary, "QB1: Beyond the Lights."
The docuseries ran for three seasons and followed nine high school quarterbacks and their recruiting journeys. Hartman becomes the eighth of the nine to eventually transfer at least once, with Georgia signee Jake Fromm (Season 1, 2017) the lone exception.
A three-game suspension of presumed QB1 Kendall Hinton announced roughly three months before the 2018 season opener left Hartman and redshirt sophomore Jamie Newman to battle to be the 2018 starter for Wake Forest.
Hartman won that battle and started nine games as a true freshman, including a 56-27 home loss to Notre Dame on Sept. 22 of that year, before a broken leg truncated his season after nine games. Hartman suffered the injury late in a 41-24 loss to Syracuse in game 9, but finished the game.
Newman, though, finished the season at No. 1, then beat out Hartman to be QB 1 in 2019. Hartman stayed but redshirted and played in four games that season with one start. Newman then surprised even Wake Forest head coach Dave Clawson after the 2019 season by announcing he was transferring.
He landed at Georgia, where he hoped to improve his NFL Draft equity, but then he opted out of the 2020 season during the height of the COVID-19 pandemic. He went undrafted the following spring and eventually landed in the Canadian Football League.
Hartman started all nine games of the 2020 season, all 14 in 2021 and all but the 2022 season opener as he was still recovering from the blood-clot issues.
He and Wake Forest were scheduled to face Notre Dame per its pre-COVID 2020 schedule in a late-September game in Charlotte, NC That game remained on the revised schedule when ND became a one-year member of the ACC, but it was ultimately postponed because of a September COVID outbreak on the Irish team.
The game was eventually rescheduled for Dec. 12, one week ahead of the ACC Championship Game between Clemson and the Irish, but the league ended up canceling it for competitive balance reasons with the irregular and interrupted schedules.
Now, as a member of Notre Dame's team, Hartman will face his former teammates, presumably as the starter, on Oct. 28 at Notre Dame Stadium. With big aspirations for himself and the Irish.
"A lot of time has been spent just looking: Is there a person in the portal that's going to enhance our roster in the right way?" Freeman said. "We can't just take anybody. We have to get the right fit for our program, for our roster. … Then you've got to recruit them and try to get him to believe that this is the best place for them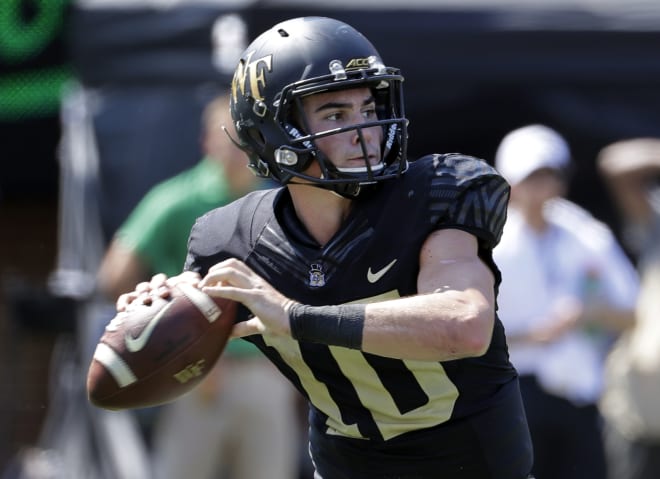 —————————————————— ————-
• Talk with Notre Dame fans on The Insider Lounge.
• Subscribe to the Inside ND Sports podcast on Apple Podcasts, Spotify, Google Podcasts, Stitcher, SoundCloud, Podbean or Pocket Casts.
• Subscribe to the Inside ND Sports channel on YouTube.
Follow us on Twitter: @insideNDsports, @EHansenND, @TJamesND and @ByKyleKelly.
• Like us on Facebook: Inside ND Sports
• Follow us on Instagram: @insideNDsports