Brigham Young head coach Kalani Sitake questions the referees after a flag as BYU and Wyoming play at LaVell Edwards Stadium in Provo on Saturday, Sept. 24, 2022. BYU won 38-24. (Scott G Winterton, Deseret News)
Estimated reading time: 6-7 minutes
PROVO — Kalani Sitake woke up Monday morning and reported to practice with his team; but for all intents of his job, it may as well have been the middle of the week.
For the seventh-year head football coach at BYU, it may as well have been.
Less than 48 hours after rebounding with a 38-24 win over Wyoming, the 19th-ranked Cougars (3-1) were back at work preparing to host in-state rival Utah State.
Because of television and the mutual tradition of playing the near-annual game between the Cougars and Aggies on general conference weekend of The Church of Jesus Christ of Latter-day Saints, the two teams will resume the 91st edition of the Wagon Wheel rivalry series — and potentially the last, at least as currently scheduled — Thursday evening (6 pm MDT, ESPN).
BYU has a lot to do in the next 72 hours, too.
"We knew way ahead of the season that this would be the situation," Sitake said in his first, and only, briefing with the local media of the week Monday afternoon via video conference. "I'm looking forward to our experts getting our guys ready. But I just want to see our guys play better, or even at our best.
"I don't think we've seen it yet."
Both teams are dealing with the same turnaround — Utah State kicked off just a few hours before BYU last Saturday in a game that dropped the Aggies to 1-3 following a 34-24 loss to UNLV. But that doesn't make it any easier to adjust to the disruption of the normal cadence of a game week.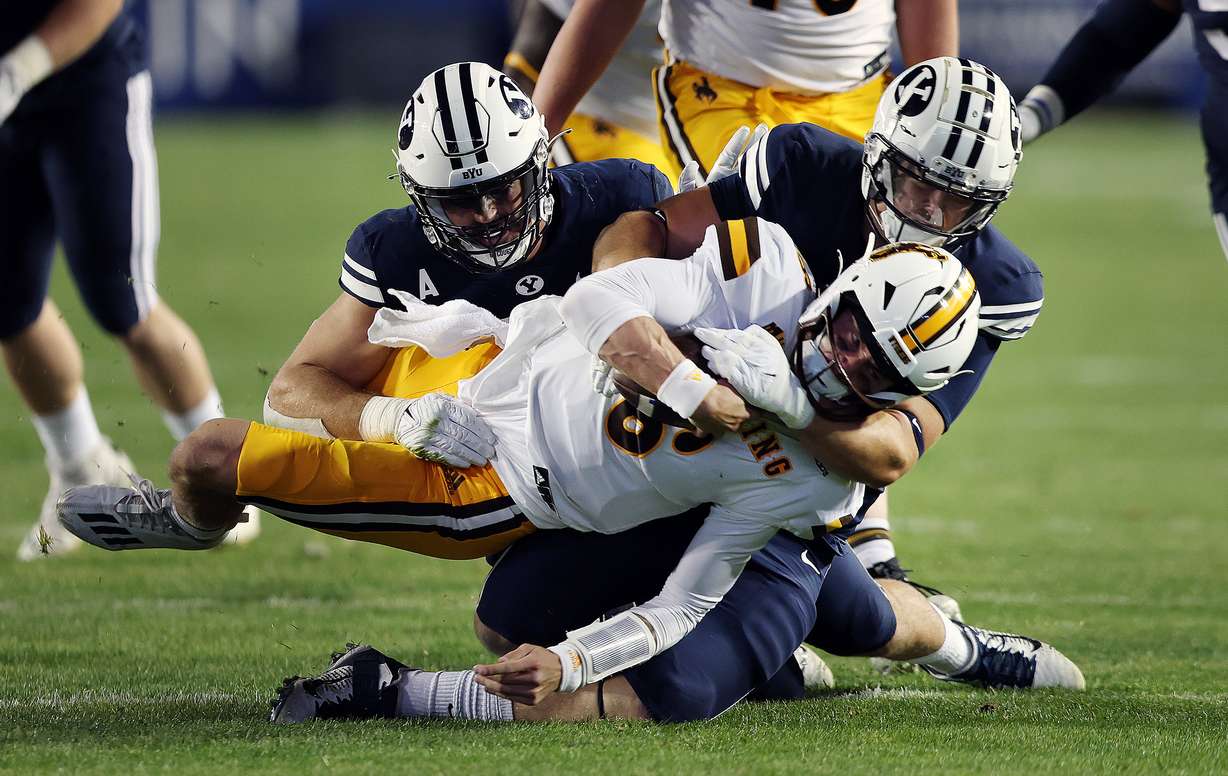 More than anything, it's just a lack of time that will stress both teams. There are only so many hours in a day, and between film review, team meetings, practices and walk-throughs (not to mention that one seems inconvenience of going to class on campus), condensing a full week of preparation into three days — or four, in Utah State's case, since BYU doesn't practice on Sundays — it can be a challenge.
This is where the army of analysts and support staff members will earn their paychecks. For the players, it just means a little less time for sleep and recovery.
"Less days mean a little less rest in between games," said BYU defensive end Tyler Batty, who returned Saturday from an injury that kept him out of the loss to Oregon a week earlier to record his first sack of the season. "There's just a lack of time with such a quick turnaround. You just don't have a lot of time for film studies, for those extra practices; everything is really condensed, and it has to be in order to be ready for the next game."
Recovery could be important for a team like BYU, which is already seeing a long list of injuries a year after ailments played a key role in the 10-3 campaign of 2021.
Specifically, the Cougars held out linebacker Max Tooley, defensive lineman Gabe Summers and defensive lineman Earl Tuioti-Mariner against the Pokes; all three are expected to return against Utah State, Sitake said.
So, too, is offensive tackle Kingsley Suamataia, who has started all four games at right tackle for the Cougars but left the Wyoming game early with an apparent right ankle injury. His father said Sunday that x-rays to the ankle came back negative.
No player has been ruled out for the season, but Sitake said that long snapper Austin Riggs — who was reporting to a hand specialist Sunday after suffering a fracture Saturday night — was likely to miss "significant" time. BYU safety Malik Moore, who suffered a similar hand injury as Riggs, was more day-to-day in his diagnosis and recovery, Sitake added.
Gunner Romney and Puka Nacua remain day-to-day and under evaluation for various injuries, although Romey is "closer than (he's) ever been" to returning, Sitake said. That's also good news for Nacua, who returned from a brutal ankle injury suffered in the season opener against South Florida only to leave the game early against Wyoming with a noticeable limp.
Nacua could be heard screaming from inside the medical tent during the second half Saturday, but Sitake told BYU Radio that his injury is not expected to be season-ending. Several sources close to the program told KSL.com that the suspected injury is not believed to be related to his previous ankle injury or a knee injury suffered when he slid before a tackle against the Pokes.
In the absence of Nacua and Romney, BYU has seen breakout performances from Chase Roberts, Keanu Hill, Kody Epps and Brayden Cosper.
"We held some guys out on game-time decisions knowing that this game would be right around the corner," Sitake said. "We figured that the recovery going into the short week would be beneficial, and then we have some extra time to heal up before the next one while we watch the general conference, to heal our spirits and our bodies."
Game day 'fits
After debuting an all-navy look for the first time this season, BYU will return to its more traditional royal uniforms against the Aggies (who also wear navy blue) for Thursday's game.
The Cougars announced an official game day uniform combination of royal blue jerseys with white pants and royal helmets, each with white trim, in the final scheduled matchup against Utah State for the foreseeable future.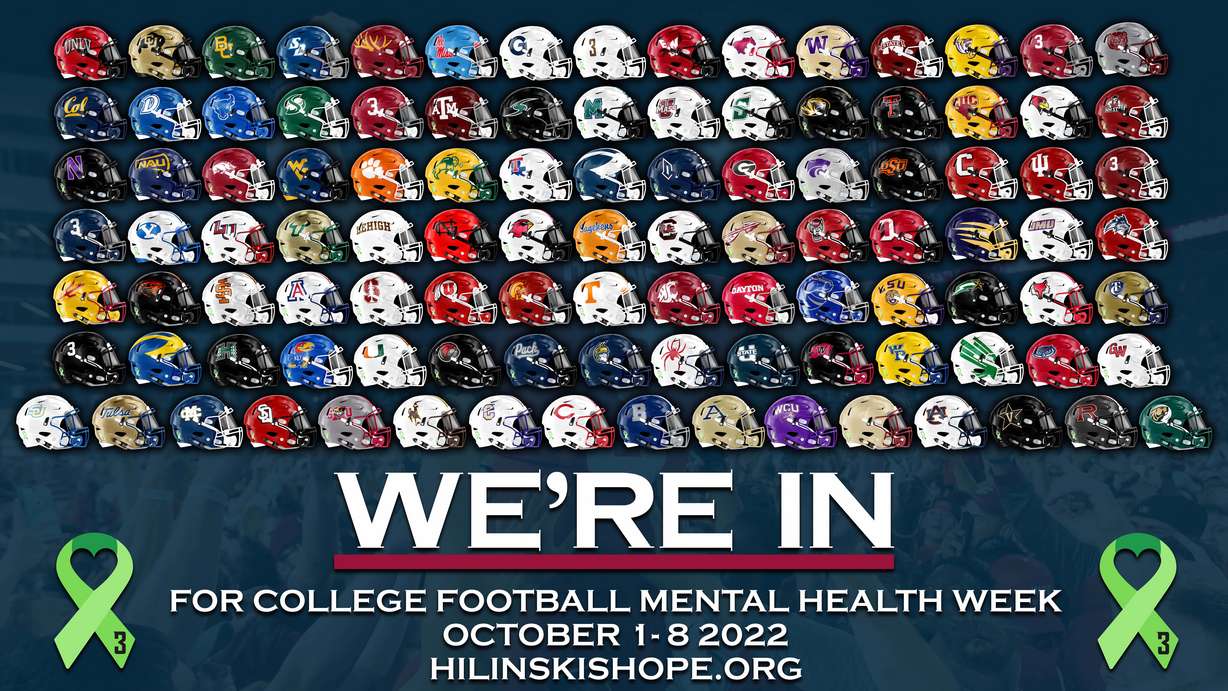 Mental health game
Last week, Utah State coach Blake Anderson announced that the Aggies would conduct several mental health initiatives for games against UNLV and BYU, and the Cougars revealed that they would join them Thursday through a partnership with Hilinski's Hope, a nonprofit founded by the parents of former Washington State quarterback Tyler Hilinski, who died by suicide before the end of his college career.
The Cougars and Aggies are among the 115 schools in college football that will take part in mental health week by wearing green ribbons on their helmets to promote the cause.
"We are incredibly honored that over 115 schools nationwide will be participating in this year's mental health week to fight stigma and increase resources on campuses," said Kym Hilinski, co-founder of Hilinski's Hope. "While conversations around mental illness can be tough and at times uncomfortable, it is absolutely critical for the well-being of our student athletes. We have spoken on dozens of campuses to help encourage these conversations and share Tyler's story. We miss Tyler every day , but we are grateful to know that what we are doing is making a difference and that he would be proud of us."
Cougars on the air
No. 19 BYU (3-1) vs. Utah State (1-3)
Thursday, Sept. 29
Kickoff: 6 pm MDT
TV: ESPN (Matt Barrie, Louis Riddick, Harry Lyles Jr.)
Streaming: WatchESPN
Radio: BYU Radio SiriusXM 143; KSL 102.7 FM/1160 AM (Greg Wrubell, Riley Nelson, Mitchell Juergens)
Series: BYU leads, 50-37-3
x
Most recent BYU Football stories
More stories you may be interested in
.