Buffalo Bills safety Damar Hamlin's recovery will continue in Western New York.
Hamlin, who has received an outpouring of support from across the nation since he collapsed in cardiac arrest early in a game Jan. 2, was released Monday morning from intensive care at the University of Cincinnati Medical Center and was flown back to Buffalo, where he was transferred to Buffalo General Medical Center/Gates Vascular Institute to continue his treatment.
"He is currently listed in stable condition and continues to make significant progress in his recovery," Kaleida Health said in a statement Monday afternoon. "The goal of the transfer to Buffalo General Medical Center/Gates Vascular Institute is to get him closer to home for further evaluation, recovery and eventually discharge and rehabilitation."
Kaleida said Hamlin's care team is being led by Dr. Jamie Nadler, a critical care physician and the system's chief quality officer, and Dr. Ken Snyder, Kaleida's chief physician quality officer and an unaffiliated neurotrauma consultant for the National Football League Players Association and the NFL.
The news Monday provided exactly what fans across the country were hoping to hear. It allowed the nation to collectively take a sigh of relief after the horrifying – and nationally televised – scene that played out about one week ago when Hamlin, 24, fell into cardiac arrest following what appeared to be an ordinary tackle late in the first quarter of the "Monday Night Football" game at Paycor Stadium in Cincinnati.
Hamlin, who has been tweeting a lot in recent days, sent out a message on Twitter at 3:30 pm Monday: "Grateful for the awesome care I received at UCMC. Happy to be back in Buffalo. The docs and nurses at Buffalo General have already made me feel at home!"
Dr. Timothy Pritts, chief of general surgery and vice chair for clinical operations at UC Health, said Hamlin on Monday morning was able to meet the criteria necessary to upgrade his condition from critical to "fair or good," which allowed for the transfer to Buffalo.
"Dr. Pritts and I have spoken extensively with his care team in Buffalo, and I can confirm that he is doing well, and this is the beginning of the next stage of his recovery," said Dr. William Knight IV, a professor in the Department of Emergency Medicine at the University of Cincinnati College of Medicine and director of the hospital's emergency medicine program.
The two doctors held a virtual news briefing at 3 pm Monday – no doubt an ode to Hamlin's jersey number – that provided the latest in a recent line of good news about the second-year player's recovery.
Bills coach Sean McDermott said he was able to see Hamlin on Monday afternoon. He said Hamlin was a little tired, but seemed happy to be back in Buffalo.
"Having him nearby will give us more comfort," McDermott said. "His parents are going to be with him there. I think that helps, as well. He's well taken care of and has a great medical team to take care of him. … I'm very comfortable with the team around him. It continues to put our minds at ease that he's in good hands and he's moving in the right direction."
Hamlin went into cardiac arrest at 8:55 pm Jan. 2, which caused staff trainers and doctors with both the Bills and Cincinnati Bengals to spring into action with a well-designed protocol, efforts that have been praised by experts across the nation. The Bills medical and athletic training staff members were recognized during pregame activities Sunday. Similarly, UC Medical Center providers, who were part of the on-field response, were honored in an on-field ceremony in Cincinnati on Sunday before the Bengals home game against the Baltimore Ravens.
Hamlin was taken by ambulance to UC Medical Center at 9:25 pm Jan. 2, where he remained until Monday morning.
After waking up, Hamlin wrote a question: Who won the game? One of the doctors answered: "Damar, you won. You've won the game of life."
Hamlin woke up Wednesday night in the hospital's ICU, asking a simple question in writing that already feels made for the big screen: Who won?
"You won," a trauma team member told Hamlin. "You've won the game of life."
Pritts and Knight told that story during their last virtual news briefing Thursday, by which point Hamlin had made "substantial improvement in his condition" and was alert and aware. Pritts, during that briefing, said it marked "a good turning point in his ongoing care."
By Friday, Hamlin's breathing tube was removed and he spoke with his teammates via FaceTime, telling them: "Love you boys."
Buffalo Bills player Damar Hamlin continues to make remarkable progress in his recovery just four days after his heart stopped during Monday night's game against the Bengals. Hamlin, the second-year safety, had his breathing tube removed overnight at the University of Cincinnati Medical Center, the team announced Friday morning. "He continues to progress remarkably in his recovery," the Bills …
Pritts, of UC Health, said that Hamlin was able to walk on Friday, taking his first lap and going for assisted walks with the nursing staff.
Hamlin's condition only continued to improve through the weekend, when he was active on social media.
In fact, Hamlin tweeted more than a dozen times on Sunday, a day when the Bills defeated the New England Patriots 35-23 to finish the season 13-3 and lock up the No. 2 seed in the AFC. That included retweeting the Bills' Twitter account, which pointed out in a tweet that Nyheim Hines' storybook opening kickoff return for a touchdown was the team's first kickoff return for a touchdown in three years and three months.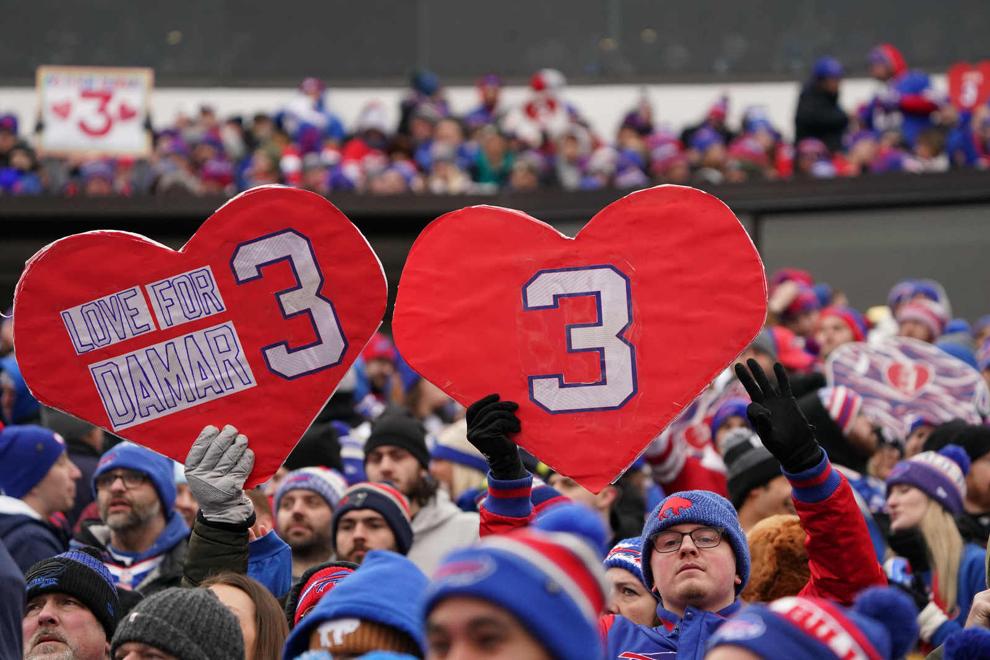 Outside Highmark Stadium in Orchard Park prior to the New England Patriots-Buffalo Bills showdown, Damar Hamlin and the "3" he wears on his Bills uniform seemed to command the love of every football fan heading towards the game – regardless of team loyalty.
The number "3" was everywhere during Sunday's game. It was on flags, signs, T-shirts and more, with fans showing support for the Pittsburgh native drafted in 2021 by the Bills.
Pritts said Hamlin watched the game Sunday and had quite the reaction when Hines took the opening kick back for a touchdown.
"When the opening kickoff was running back, he jumped up and down, got out of his chair, I think every alarm went off in the ICU in the process," Pritts said. "But he was fine. It was just an appropriate reaction to a very exciting play. So, he very much enjoyed it, and enjoys the support from everyone."
During the news briefing Monday, Pritts and Knight noted that Hamlin's care team in Buffalo will determine his next steps, but they expressed optimism for his continued recovery.
In her statement, Kaleida said Drs. Nadler and Snyder will continue to monitor Hamlin's progress and further evaluate him over the next few days. Kaleida said the two doctors are working in conjunction with Dr. Thomas White, the Bills' team internist, and Nate Breske, the team's head athletic trainer.
"Out of continued respect for the privacy of the Hamlin family, the hospital does not plan any press conference or announcements regarding Mr. Hamlin at this time," Kaleida said. "Further, our physicians are politely declining any media and/or interview requests at this time."
Pritts and Knight were encouraged by Hamlin's progress in recent days. Knight mentioned that Hamlin was "admittedly a little weak" on Monday, something that isn't unexpected, given everything he's been through. Pritts mentioned that Hamlin no longer needs intensive nursing care or intensive respiratory therapy, which is what influenced the decision to transport him to the Buffalo Niagara Medical Campus.
Pritts said he expects Hamlin to go through an ongoing series of tests and evaluations to determine whether something caused the incident Jan. 2 and "to treat any pathology that may be found."
Pritts said a normal recovery from something like what Hamlin went through is "going to be measured in weeks to months," although he noted Hamlin has been a little ahead in his recovery at each stage, so far.
The doctors were asked Monday about whether Hamlin might be able to return to football, which they said is too premature at this point.
"He still has a little bit of a ways to go in terms of his ongoing recovery," Knight said. "We're thrilled with where he is today. He's up, he's walking around. He's got an amazing, genuine sense of humor. And his family is amazing and we're happy he's with them, but in terms of any kind of conjecture to his future, that's still significantly into the future, and it's going to be up to Damar and a great team of physicians to help him."
As for Hamlin, he has big plans moving forward.
"Watching the world come together around me on Sunday was truly an amazing feeling," he posted on Twitter just before 3:30 pm Monday. "The same love you all have shown me is the same love that I plan to put back into the world n more."
"Bigger than football!" is how he put it.
Jon Harris can be reached at 716-849-3482 or jharris@buffnews.com. Follow him on Twitter at @ByJonHarris.
.